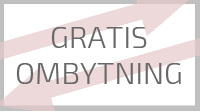 International customers
MadameChic.dk is a Danish web shop specialising in selling Danish and international designer handbags for women. All information in the web shop is in Danish, Prices are quoted in DKK. Here at MadameChic.dk you can shop 100% secure, and we have the approval of the Danish Payments Systems (PBS - Denmark's largest supplier of credit cards). For more information, visit www.pbs.dk.
Payment
When shopping at
www.madamechic.dk
, we accept most foreign credit cards – If you want to pay by bank transfer, you must first contact customer service at
kundeservice@madamechic.dk
or call +45 72 30 10 42. Then we will help you proceed your order.

Jutlander Bank: Reg. no.: 8145. Account no.: 0005713250
IBAN: DK0281450005713250 - BIC: JUTBDK21

When your payment has been registered, your order will be dispatched.


Delivery:
All orders received before 2 pm on weekdays will be dispatched the same business day. Orders received after 2 pm and orders received on bank holidays will be dispatched the next business day.
Please note that in times of sales, delivery might take longer.


Delivery outside Denmark:
If you place an order from a country outside the EU, Danish VAT will automatically be deducted.
If you place an order from a country inside the EU, Danish VAT will automatically be added.


Postage:
For orders over DKK 2.000 MadameChic.dk sends the package free of charge all over the world.
For orders under DKK 2.000, we will automatically be charge DKK 175 in Parcel insurance.
Customer service:
If you have any questions or comments, please do not hesitate to contact customer service at the following e-mail address:
kundeservice@madamechic.dk
or call +45 72 30 10 42.
Defects:
If, contrary to expectation, an item is damaged or defective upon arrival, we will, of course, be happy to exchange the item. Please contact us by e-mail -
kundeservice@madamechic.dk
and we will send you a confirmation by e-mail, which will inform you of how to return the item.


Return policy:
If you are dissatisfied with the items received, we kindly ask you to return them no later than 2 weeks after receipt. We will exchange or refund your purchase, providing the items have been unworn and undamaged. Please return the items in the same condition as you received them. Furthermore, items should be packed as at delivery, and all tags should still be attached.

The customer must pay return postage. If you return items from a country outside the EU, we ask you to ALWAYS send the items as a present or with an invoice attached to the outside of the parcel (a customs clearance charge for DKK75 may be imposed). The amount will be repatriated to the credit card used when ordering and paying for the items.

Return postage to following address:
MadameChic.dk
Nibevej 317 A
DK- 9200 Aalborg SV


Exchange items:
If you wish to exchange an item, we recommend that you place a new order.
The amount originally paid for the returned items will be repatriated to your credit card upon receipt of the item.


Miscellaneous:
MadameChic.dk cannot be held liable for colours, shapes, etc. in the pictures in the web shop. All items are shown as realistically as possible. Should an item, however, not fulfil your expectations; you are, of course, more than welcome to return the item, see above return policy.

MadameChic.dk cannot be held liable for items being sold out.